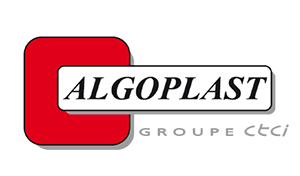 The teams at the Algoplast site are specialized in extrusion and offer reels and plates for thermoforming.
On this site, located in Ballots, are extruded thermoplastics most commonly used in thermoforming such as PS or ABS, in plates or coils up to 6 millimeters thick.
The applications are many and varied (automobile, POS, food …).
In the interest of innovation, Algoplast also offers specific solutions adapted to packaging applications for industrial or cosmetic products:
Coextruded products with anti-scratch quality
Dissipative products (for electronic components)Recycled products with color bands
Coextruded products with anti-scratch quality
Specialty products for targeted applications such as foaming, neutralization of moisture in the air (VCI treatment)
…






Plastic extrusion by Algoplast allows :
The production of coils and sheets in small, medium and large series
Tailor-made solutions
Management of stocks and shipments
A controlled environment
…